Upload questions from Word document
Tired of uploading questions one by one? Testpress enables you to upload questions from word document in a single click. Testpress's bulk MCQ uploader works even with image / equation / graph based questions.
Dont need to worry about time spent in uploading questions. Start saving time exponentially with Testpress's bulk uploader and money too!
Schedule your exams and result publishing
Testpress enables institutions to schedule an exam without uploading the questions. This helps students to know about exam details like exam start date, exam duration, syllabus and number of questions. Questions can be uploaded at later point of time before the exam actually starts.
You can also schedule the Rank Publishing date with Testpress. Ranks of the test takers will be displayed in the students dashboard from the given date.
Real Time Exam Templates
Are you running a coaching institution for Bank Exam / IIT – JEE / AIPMT / PG Medical Entrance Examination? With Testpress, you can provide the same feel as the final exam! Testpress exam templates support IBPS / SBI / AIIMS / AIPG / FMGE / IIT-JEE / JIPMER / CAT exams. It short Testpress supports all the TCS and Prometric powered exams.
Exam templates helps students to experience the exam atmosphere before the final exams. More the practice they make in the exam templates, time management in the final exam becomes easy for the students.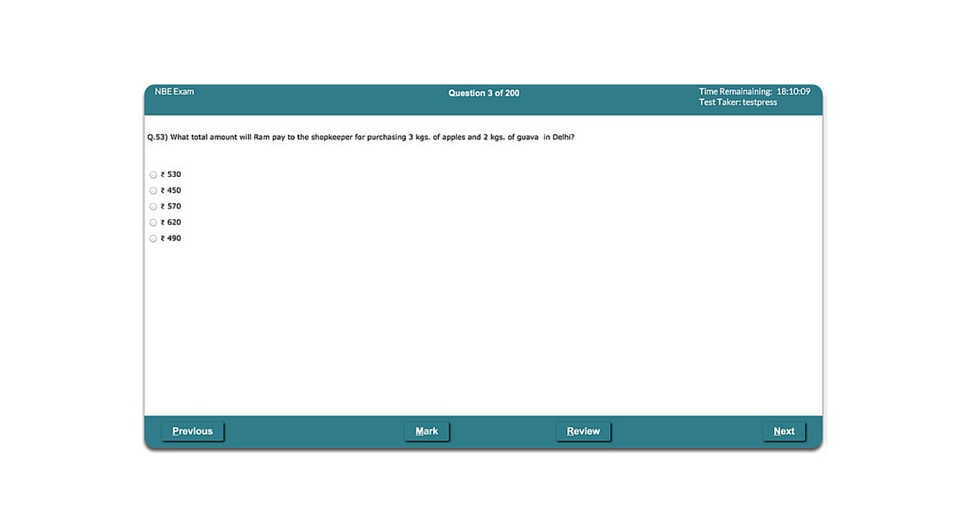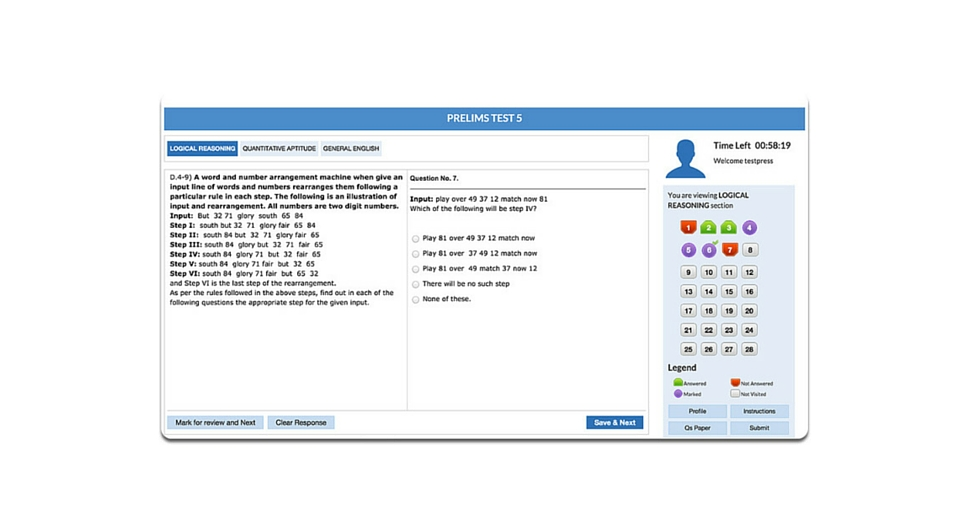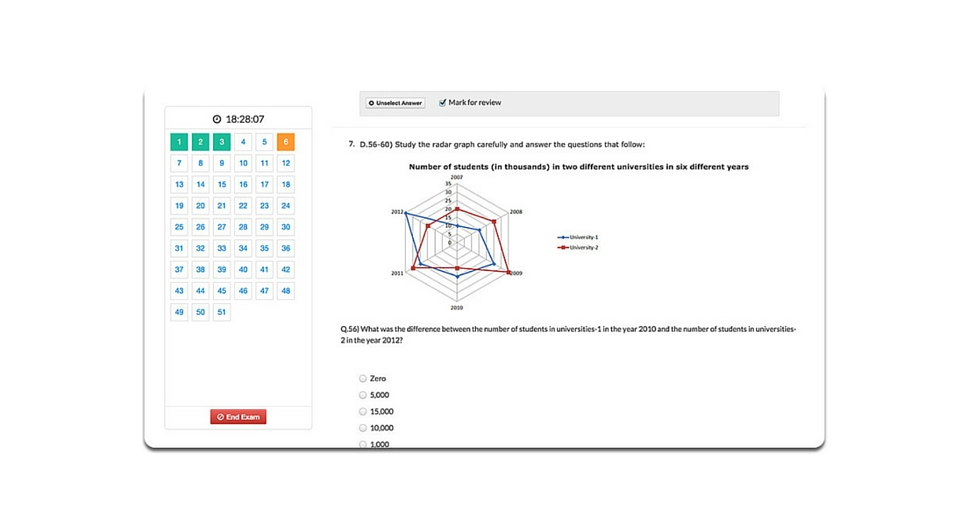 With Testpress, students can download the pdfs of exam questions and answer key seperately or together. This helps students take the print out the questions and work out at their home without an internet connection.
If you donot want your students to download the pdf, you can disable the pdf download in Testpress administrator dashboard.
Testpress provides a option to hide the exam results being shown to the user. i.e) Student can just attempt an exam and exam answer keys, exam score will not be displayed for the student.
This feature will be usefull when your institution conducts a scholarship test / recruitment exam.
Multiple Exam Attempts
You can optionally allow the learners to retake an exam. You can also control the number of times a learner can retake the exam (limited or unlimited)
With this feature, learner can attempt the exam for first time, review the incorrect questions and use the second attempt to correct his mistakes. Testpress belives that practice will make a learner perfect.
No more worries about power cut
In the developing countries, power cut is one of the most common problem. We do not want power cut to interrupt the test.
With Testpress test taker can resume the test from the same point where the test was left.
One click Exam Results publishing
With Testpress, you can schedule the result publishing date. Learners will start seeing their ranks and other students rank from the respective date. This let the learners know where they stand among their peers and motivates them to do better in the next.
You can also upload the scores of offline test takers and publish the single integrated list containing both online and offline learners.
Integrated discussion forum
Testpress has integrated comments to each and every questions in the exam. After completing the exam, students can comment his doubt while reviewing the questions. A notification will be sent to all the students who have attempted the exam.
Institute administrator can reply to student's doubt and help students clarify the doubts. Integrated discussion forum increases engagement inside the learning platform.
Multiple question formats
Testpress assessments supports multiple types of questions like Multiple Choice Questions, Multiple response questions, subjective type questions.
As IBPS PO and SBI PO's Mains has become online, it is important for the learners to get practised before they go to the final exam.
SMS / Email Reminders to students
One of the problem in the online learning is rate of course completion. At testpress, we strive hard to implement features helping learners to complete the course.
Testpress send weekly sms and emails to learners about the status of learning and the number of pending exams to keep the students informed about their progress.
Time and Subject wise analytics
With Testpress, test creator can tag the questions against a subject. After the completion of the exam, students can find the strength and weakness areas. Testpress also helps students find the overall strength and weakness in all the tests the students have attempted.
Students also can find the time spent by them on each questions. Students can compare their time with the toppers helping them to manage the time efficiently.
Zen like Reading experience
Testpress's enotes UI for learners is simply clean with no nonsense elements providing zen like reading experience for the students.
Like Pdfs and other ebook formats, learners can easily access the table of contents and navigate between the chapters with less number of clicks.
---
No Fancy apps necessary to read the e-notes
Sharing pdf notes are the easy way but not the right way! One of the biggest drawback of pdf is, PDFs cannot be properly viewed in mobile phones.
Testpress's enotes are highly responsive and can be accessed from any mobile / tablet phone browsers securely enabline learners learn on the go! No fancy apps are needed to access e-notes. They can be accessed from normal web browsers.
---
Organize your contents like a PRO Editor
Content organization plays a crucial role in online training. In Testpress you can organize the e-notes contents as topics and sub topics enabling the navigation's easier and simpler for learners.
---
Integrate Videos
Video speaks louder than text! With Testpress e-notes, trainers can embed videos from YouTube, Vimeo and other video hosting platforms seamlessly.
Sell Packaged exams
Testpress had an integrated payment gateway. You can package multiple exams and sell it as pack of exams (Online Test series). Testpress also provides an web page to help you display the schedule of exams helping students to have a glimspe of test series before subscribing to the exams.
---
Registration Automation
Registration process in Testpress is completely automated. There is no manual process of sharing username and password. Students register by themselves by providing their personal details like choosing their own username and password. Make the payment and start accessing the materials in no time.
We at Testpress strive to minimize your operations work, maximize your productivity and helping you focus on creating good quality contents.
---
Sell Books and correspondence courses
It is very difficult to get the approval of Payment gateways to start selling your book / correspondence courses online. Testpress simplifies the online payments for selling your correspondence courses / books.
While students purchasing the books / correspondence courses, testpress collects the contact details and sends an email to you about the payment. You can proceed with the shipment and updated the courier tracking id in dashboard to let the users know about their shipments.
---
Class room Course Registration
In the online world, most of the students prefer to pay online, then why not provide your students an option to make the fees payment online for the course.
With Testpress, you can display the schedules of all your offline courses online. Listing the class room course details benefits you with SEO, informed students and faster conversion rate for the class room courses.
User Groups
With Testpress, you can form user Groups called Batches. You can assign online exams, enotes securely to the a batch. Only the learners in the batches will be able to access the online study materials.
With Testpress, you can create unlimited number of batches and share content seamlessly with the students.
---
Bulk Email Invitation to users
Onboarding the users to Testpress is so easy. You just type the students email address in the text box and select a batch. That's it.Your job is done.
Students will be sent an email invitation to their email address. Students can use the inviation and register themselves in the learning management system and start accessing their materials. Students can choose their own username and password.
---
Bulk Excel Upload
Some times, you dont want students to create their own username and password, where as you want to create the usernames and password for them. With Testpress creating the user accounts is so simple.
You can upload the username and password details of the users in bulk to create the user accounts in bulk. Optionally you can send the users email / sms about their user account creation.
---
Bulk email to Users
With Testpress, communication with learners become so easy and simple. You can send mass emails to batch of students / whole students.
Whether it is a class resceduling / announcement of new programs, you don't need to rely on gmail / mail apps. You can send it right from the lms dashboard.
SEO Optimized Website
Testpress provides a free SEO optimized web page to show case all your offerings to the students.
Students can easily find the list of books, Online Programs, Class room programs offered by your training institute and subscribe to them automatically.
---
Free Online Exams to collect students database
With Testpress, you can make an exam public and let any registered learners access online exam / enotes for free by exchanging their personal details like phone number and email address.
---
Discount vouchers
With Testpress, you can create discount vouchers and share it with the students. Students can use the discount codes and start registering for the course with the discounted price.
With discounted codes, you can start tracking your marketing efforts like providing a separate discount for Facebook marketing and separate code for google ads.
---
SIMPLIFY YOUR ONLINE TRAINING USING TESTPRESS PRO